By Steve Wagner, FP&M Communications
Most of the students streaming by Steenbock Library on their way to class on a brisk morning last fall did not notice what was flying overhead: a drone used to conduct building inspections.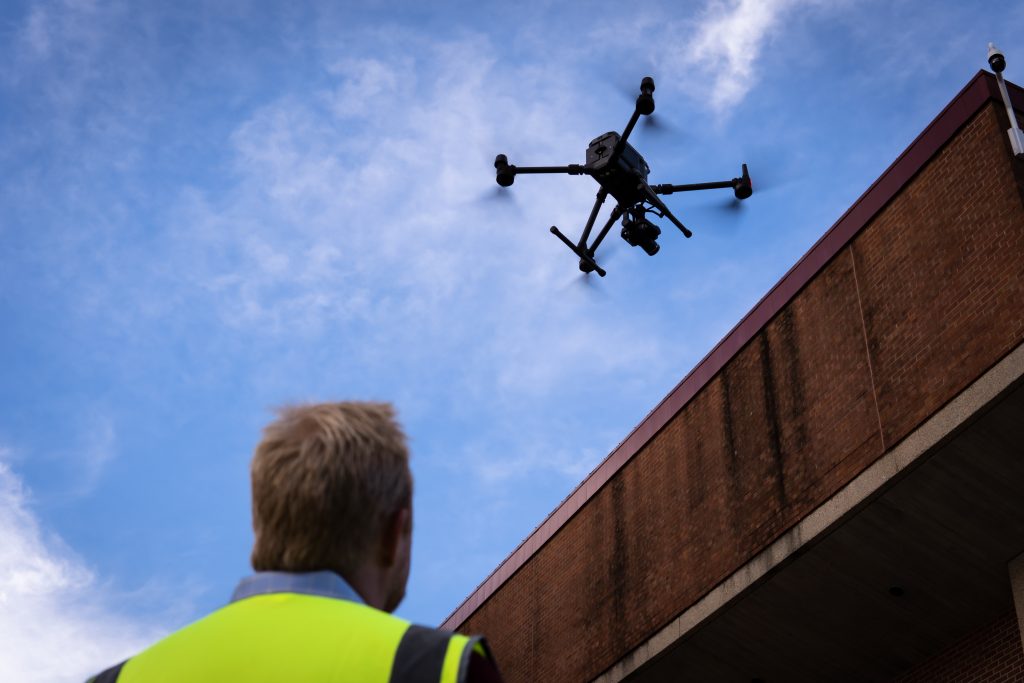 FP&M Physical Plant, in partnership with the State of Wisconsin Division of Facilities Development (DFD), has been engaged in a project to conduct standard building assessments of 17 campus buildings. These assessments help identify existing or potential building envelope issues; they also provide information for future preventive maintenance budgeting and planning.
This year, for the first time, the contractors are using a drone with both a high-resolution camera and a thermal imaging camera to carefully inspect the exterior of each building. In the past, this sort of up-close, eye-level inspection was done by technicians on a lift or a swing stage–equipment that is costly, cumbersome to move, and sometimes disruptive to people in the surrounding area.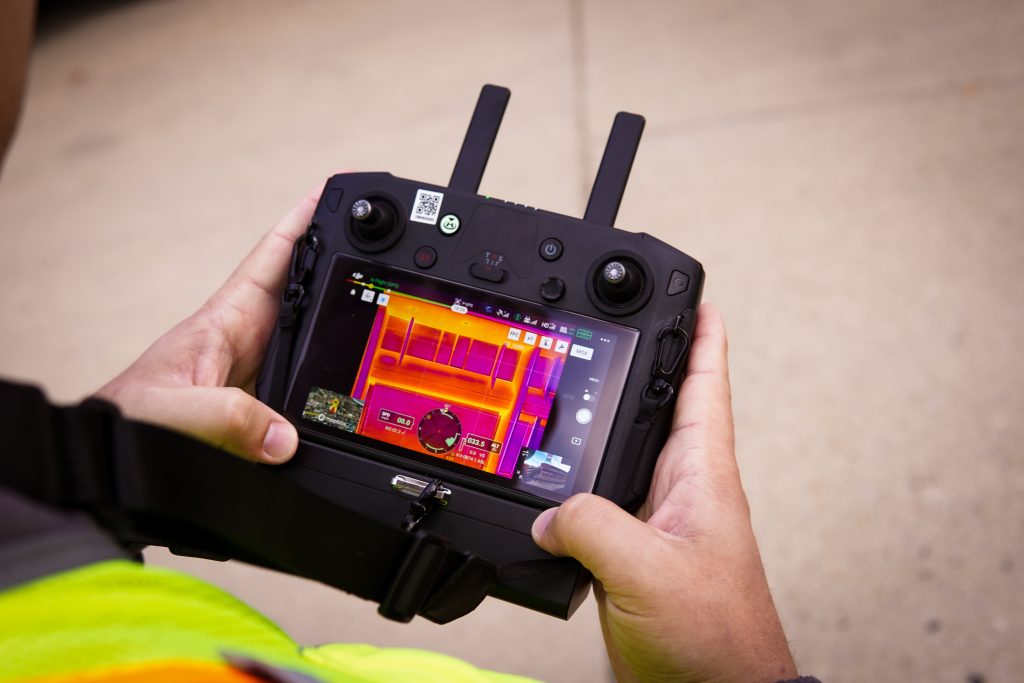 Using a drone allows the contractor to gather more information safely and at lower cost, which means that more campus buildings can be inspected each year. High-resolution photography and thermal imaging also provide accurate and detailed information, helping to create a fuller picture of the condition of a given building without the need for destructive investigation.
This drone-assisted structural condition assessment includes several aspects. First, a 45-megapixel camera is used to create a cloud-based, 3D model of each building, after which the building envelope is scanned with a thermal imaging camera. The data created by this two-pronged approach is reviewed by a master thermographer to identify thermal anomalies that might be indicative of a variety of physical problems with the building, including water penetration, window barrier failure, electrical system failure, or mis-activated snow-melting cables, and others.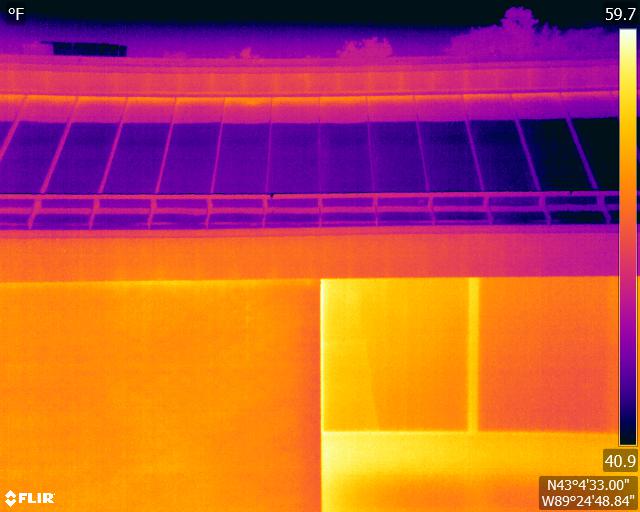 The drone contractor also creates a map of each building facade using a high-definition zoom camera running on a grid pattern. This provides both an overall image of the building and detailed zoom shots of each grid square. In addition to up-close examination of areas of interest, this also provides a historical record of each building facade, allowing for the monitoring of emerging issues over time.
Physical Plant staff, working with our partners at DFD, then use this information to determine which buildings need immediate attention, and for the long-term planning of building maintenance and repair projects. This is just one of the many ways that FP&M works to operate and maintain campus buildings in the most efficient and cost-effective manner possible.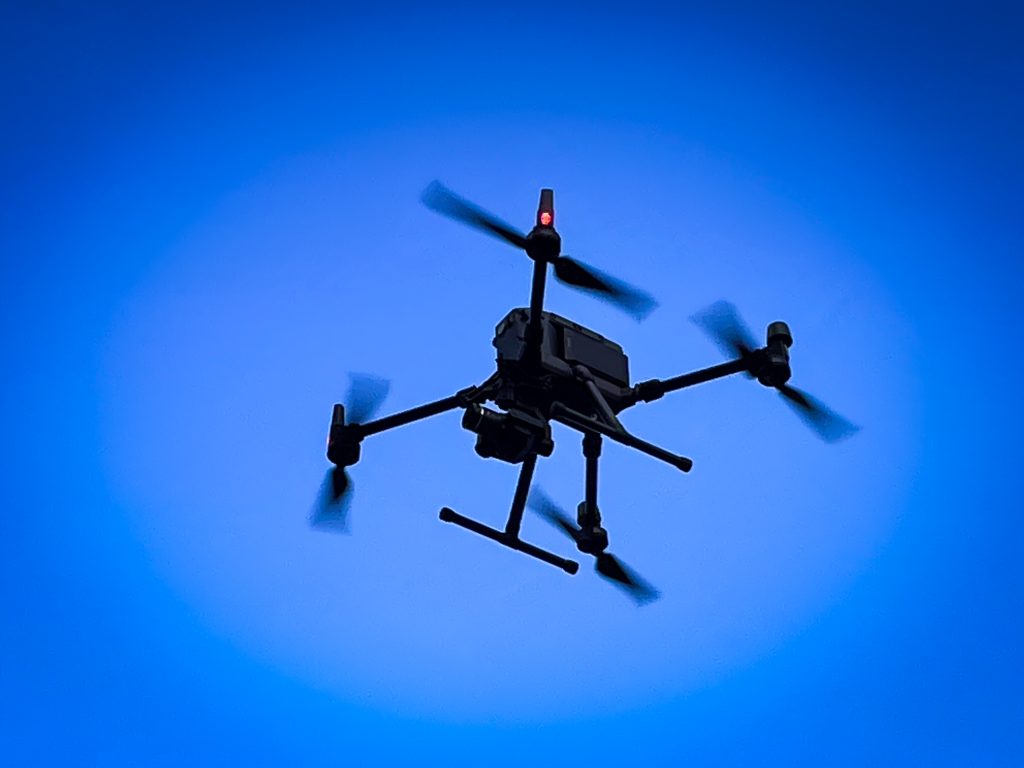 Photo credits: Jake Stottler, UW-Madison Facilities Planning & Management