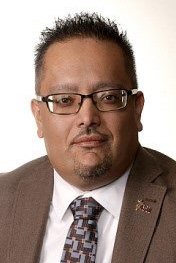 Arnold (Gabe) Mendez has accepted the position of Director of Transportation Operations in FP&M Transportation Services. He begins work on August 30, 2020.
Mendez brings more than 18 years of experience in transportation operations to UW-Madison. He is currently the Assistant Director of Parking and Transit at Arizona State University where he has worked since 2008. Prior to this position he worked with Downtown Mesa Association on special event parking and enforcement programs with the City of Mesa and with Standard Parking on projects in Phoenix, Arizona.
"I am very excited to have Gabe join our team," says Patrick Kass, Director of Transportation Services. "His leadership and experience will help us continue to improve our programs to meet the needs of the campus."
Mendez holds a bachelor's degree in Interdisciplinary Studies (History & Political Science) from Arizona State University. He is a member of the Southwest Parking & Transportation Association (SWPTA) and the International Parking Institute (IPI), serving in leadership positions in both organizations.
He succeeds James Bogan, who is now Director of Facilities Management for the FP&M Physical Plant.