Thank you to all who were able to attend today. We expect the dedication to be covered in many local news sources in the coming days. Please check back next week for photos from the event available for download.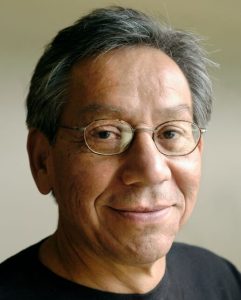 Commemorate the life and work of UW-Madison alumnus and Professor Emeritus Truman Lowe as the university officially dedicates a sculpture created by and honoring the life of the Ho-Chunk Nation artist. 
Date: Friday, Sept. 15, 2023
Program: 10 a.m. – 11 a.m.
Location: North of Van Hise Hall on the southwest corner of North Charter Street and Observatory Drive, UW-Madison. 
---
Program of Events
Welcome
• Carla Vigue, UW-Madison Director of Tribal Relations
Remarks
• Sarah Lemieux, Area Representative, Ho-Chunk Nation
• Tonia Lowe, Truman Lowe's daughter
• Jennifer Mnookin, UW-Madison Chancellor
• Patricia Marroquin Norby, Metropolitan Museum of Art Associate Curator of Native American Art
Songs
• Wisconsin Dells Singers
Refreshments provided by Wild Bearies, which specializes in Indigenous and ancestral cuisine, will follow the program. 
UW–Madison occupies ancestral Ho-Chunk land, a place the Ho-Chunk call Teejop (Dejope, or Four Lakes). In an 1832 treaty, the Ho-Chunk Nation was forced to cede this territory. The Our Shared Future heritage marker at UW–Madison recognizes this history.
---

About the Sculpture
The aluminum sculpture Effigy: Bird Form was created by alumnus and Professor Emeritus Truman Lowe in 1997 It was showcased in a yearlong exhibition of 20th-century works at the White House Sculpture Garden in Washington.
"Being from the woodlands, I wanted my inspiration for this sculpture to come from a culture that inhabited this area and left its mark with earthen mounds — a unique way of showing respect and living with the Earth," Lowe said of the work. "This is my attempt to pay my respects, to celebrate the longevity of our history and our traditions. We have endured and I know we will survive."
About Truman Lowe
Truman Lowe (1944-2019), an alumnus and professor emeritus, was an internationally acclaimed sculptor. His works bridged the traditional and contemporary, abstract and representational worlds of Native American fine art and were deeply rooted in his Ho-Chunk heritage. His art has been exhibited at major venues throughout the United States, as well as in Canada, Europe, Africa, South America and New Zealand.
Lowe was born Jan. 19, 1944, and grew up in a Ho-Chunk community near Black River Falls. He received his Master of Fine Arts degree from UW-Madison in 1973. While on campus, Lowe studied sculpture, glassblowing, ceramics and more while developing his own artistic voice. He joined the School of Education's Art Department in 1975, was promoted to full professor in 1989 and served as chair of the department from 1984-1995. From 1975 to 1988, Lowe was also the coordinator for the fledgling Native American Studies Program. Additionally, he served as chair of the Chancellor's Scholarship Committee, where from 1984 to 2004 he recruited and supported underrepresented students interested in pursuing their education at UW–Madison.
In 2007, the Wisconsin Arts Board honored Lowe with its Wisconsin Visual Art Lifetime Achievement Award, and in 2008 he received a Distinguished Alumni Award from the Wisconsin Alumni Association. From 2000 to 2008, he was the curator of contemporary art for the Smithsonian National Museum of the American Indian. His legacy continues after his passing in 2019 with many art museums across the nation acquiring his art for their permanent collections, and in 2022, the Truman T. Lowe Center for the Arts was dedicated at the University of Wisconsin–La Crosse, where Lowe earned his BS in art education.
What to Expect
Limited free visitor parking is available in Lot 34. If this lot is full, browse a list of currently available visitor parking. Shuttle service from Lot 34 to the event location will be available for visitors with additional mobility needs.
Limited seating is available with priority given to Ho-Chunk Nation elders. The sculpture is located at the top of a hill, requiring visitors to traverse some uneven, hilly terrain. If seating is full, visitors may have to stand for the duration of the 45-minute program.We value inclusion and access for all participants and are pleased to provide reasonable accommodations for this event. Please contact Top Tantivivat at top.tantivivat@wisc.edu to make a reasonable accommodation request. Requests must be submitted by Wednesday, Sept. 13.
The event will be outdoors, as planned.
In the case of rain or other inclement weather, the program may be moved. Please check back here on the day of the event for updated information.