Event Location
The event will take place behind (south of) the Service Annex (1225 University Avenue). Look for the tents on the corner of North Orchard Street and West Johnson Street.
Please note this is in outdoor event, and you may want to tour the buildings, so please dress for the weather and for walking.
See the map below for details on where the location is and the nearest parking lots.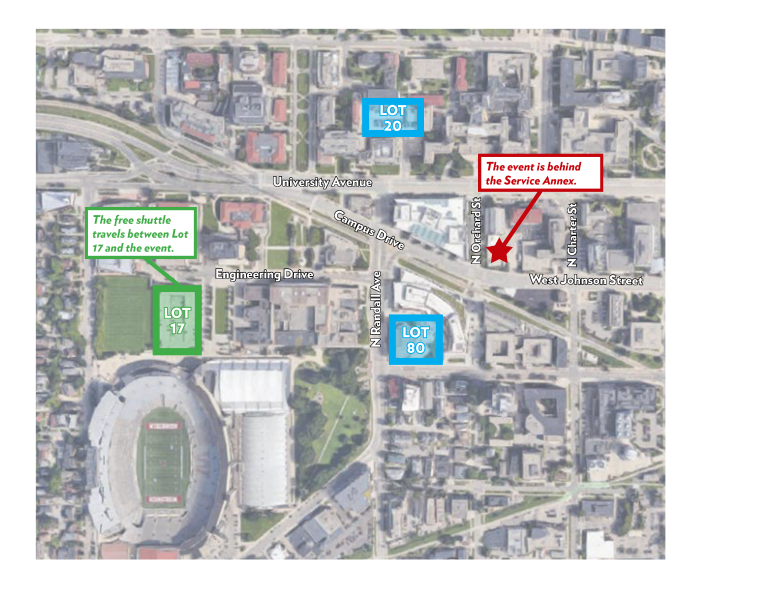 Parking Shuttle
There will be a free shuttle (with wheelchair access) running between Lot 17 and the event from 10:45 am to 2:15 pm. Look for the "Go Riteway" shuttle on the northwest side of the parking garage.
Engineering Drive Ramp (Lot 17)
1525 Engineering Drive
Nearby Parking
Lots 17, 20 and 80 are closest to the Service Building. Parking rates at each facility are:
$1 per 30 min for the first 3 hours
$1 per hour thereafter
$15 daily maximum
Visitor parking availability on campus is available online. (Save this link to your phone to check the day of the event: https://transportation.wisc.edu/parking-lots/lot-occupancy-count/)
Weather Concerns
The event space includes tents to provide shade and cover from light rain, but it is outdoors, so please dress accordingly.
In case of predicted bad weather, the event will take place at Union South. An announcement will be sent via email and posted on this site no later than Monday morning.
In case of predicted severe weather, the event will be canceled.
Handy Links
Check out these links to plan your trip, or save them for the day of the event.
Maps:
Parking:
Share your memories
We are collecting oral histories about the Service Building and Annex, and we would love to hear from you. Interested in sharing your memories and stories? Please contact Jenee at jenee.jerome@wisc.edu.