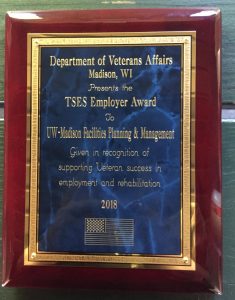 The Department of Veterans Affairs recently honored Facilities Planning & Management for its work with the VA's Therapeutic Supported Employment Services (TSES) program.
This program places qualifying veterans in temporary labor positions to provide transitional vocational training as a gateway to permanent employment. Temporary placements, which typically last three to six months, will address crucial skills gaps and provide on-the-job, vocational training in facilities operations, including the use of specialized equipment and processes, that will leave veterans with the transferable skills they need to re-enter the workforce.
Since this program began, a number of veterans have been assigned to FP&M on a temporary basis. Two of these veterans—Steve Pulaski and Dale Smith—have since been hired by FP&M after they completed their temporary assignments and successfully competed for full-time positions in the Physical Plant.
FP&M's partnership with the VA began in 2017 with a successful application for a Baldwin Wisconsin Idea Innovation grant, which helps fund FP&M's involvement in this program.